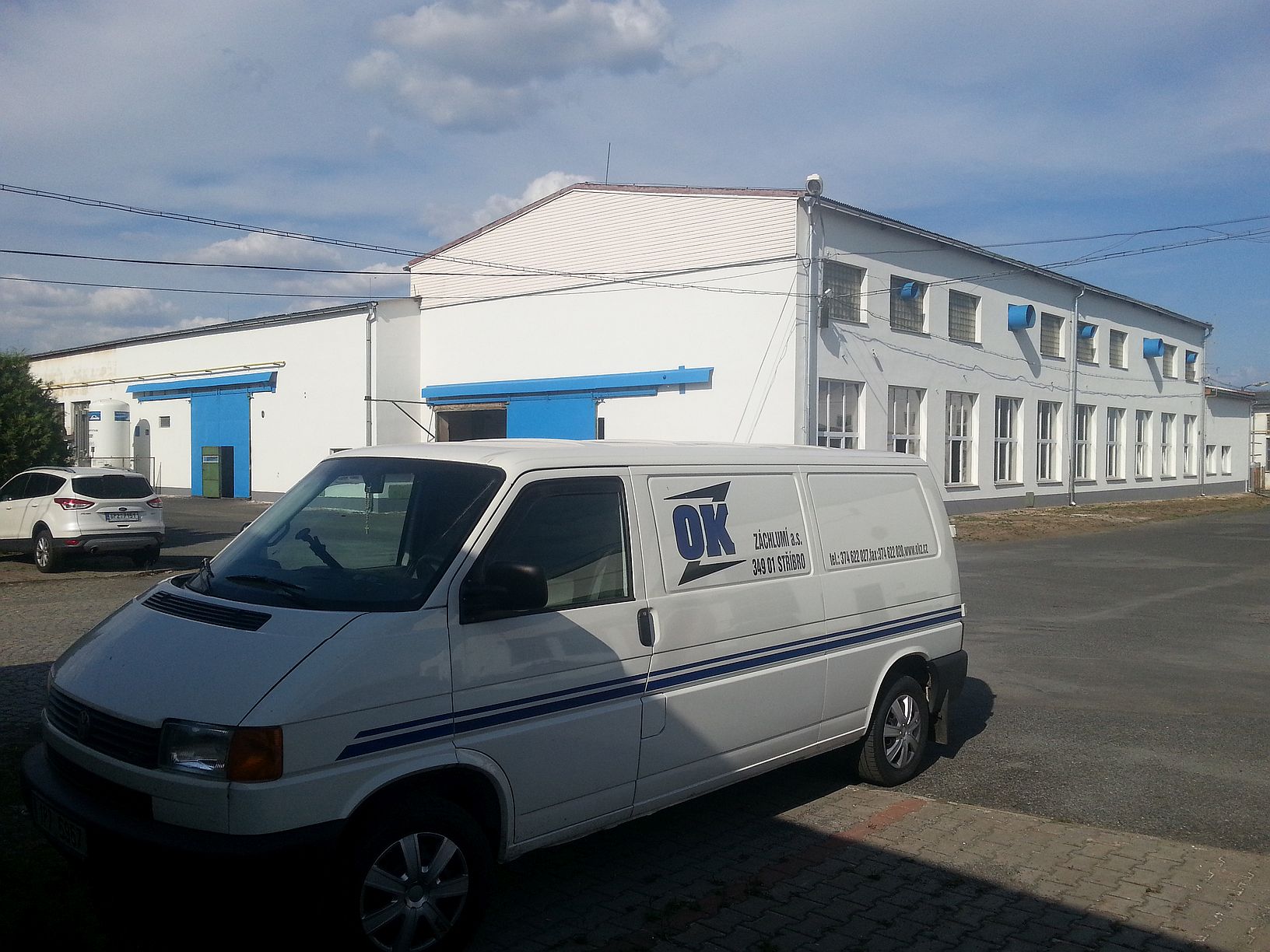 The joint stock company OK Záchlumí, a.s. was established on 26th March 2007 by the registration to the Companies Register by Regional court in Pilsen - document B/1302.
OK Záchlumí, a.s. is new company of intermediate size. Company continues in manufacturing programme and services, which was provided by OSONA holding, a.s., závod Záchlumí (plant Záchlumí) and former company Opravy a kovovýroba Záchlumí, a.s.

The main activity of OK Záchlumí, a.s. is the production of components for building machines and trucks, production of agricultural machinery, CNC cutting (laser, plasma, oxy-acetylene welder) and cold pressing of sheet metals.

The company produces also special metal pallets and device for transport, handling and storage incl. their universal components, but only in smaller volume.

Business activities are aimed to the Czech republic and European union countries. Majority of the production is determined for foreign markets.

Current manufacturing, technic, tehnologic equipment and personnel staff enable very flexible reaction to customers´ demand. Keeping of delivery terms and high quality of all products are obviosity. The company is able to meet claims of domestic and foreign partners in its production branch.
Company
Name of the company: OK Záchlumí, a.s.
Address: Záchlumí 45, 349 01 Stříbro
Registration: The Companies Register by Regional court in Pilsen - document B/1302
Registrationdate: 26. 03. 2007
Statutary body: Chairman of statutory body - Ing. Jan Maroušek
Supervisory board: Chairman of supervisory board - Pavel Vaněk
Authorized capital: 10.000.000,- CZK
Company registration number: 27975924
VAT ID: CZ27975924
Tel.: +420 374 622 027 - central office
Tel.: +420 374 616 249 - secretary of the director
Fax: +420374 622 020
E-Mail: okz@okz.cz
affiliation with concern
OK Záchlumí, a. s., is members of concern. Members of concern: OK Záchlumí, a. s., Záchlumí 45, 349 01 Stříbro, Id. Nr. 27975924 (as managing person with commercial share 100 %) and Ekonomicko-obchodní servis, s. r. o., Guldenerova 485/3, 326 00 Plzeň, Company registration number: 04358503 (as controlled person).
annual report and final accounts 2018
Quality assurance
EN ISO 9001:2016
Keeping of high quality is assured by the quality certificate according to the European standard EN ISO 9001:2016
EN ISO 3834-2
The company is certificated according to EN ISO 3834-2 to welding of steel constructions. Validity of this certification is until year 2022.
Personnel structure
Our company OK Záchlumí, a. s., employ 86 employees.
Management
Chairman of the board: ing. Jan Maroušek
Business department manager: ing. Milan Neumann
Production and technical department - 16
Business department - 8
Workers - 56
Other staff -4
Designers and CNC programmers are part of production and technical department. The technical preparation of production department cooperates with development department. We can make samples and prototypes to improve our production.